History

Watch this video clip encompassing the Library's 200-year history or peruse our history in print below.
Early Beginnings
The Library's history traces back to 1810, seven years after Ohio became a state, when literate Yankee settlers formed the Washington Social Library Company. This joint stock company was modeled after America's first subscription library founded by Benjamin Franklin in 1731. Chartered by the newly elected General Assembly of the State of Ohio, the Washington Social Library Company flourished for some thirty years, until 1840.
Forerunner of the public library was the Centerville Library Club, organized circa 1900. The Rev. B. F. Vaughn, Ida Weller, and other community leaders met in members' homes for literary programs and raised funds for books by sponsoring theater productions and lyceums. In 1930, they turned over their collection of some 150 volumes to the newly incorporated Washington Township Public Library. Seven Library trustees were appointed by the Board of Education, as they are now, and tax monies were made available by the Montgomery County auditor.
Going Public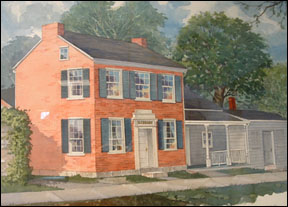 The first public library was located in two rooms of the early red brick home of Sara and May Anderson on West Franklin Street. Mrs. Minnie McNeil was named the first librarian at a salary of $360 per year. In 1946, the Library was moved to a former blacksmith shop at 18 S. Main Street and still housed only a few thousand books.
Increases in population during the post-World War II period translated to increases in Library usage. From 1955 to 1960 the number of books and users doubled. As the area changed from a rural setting to a suburban community, expanded Library services became imperative.
Centerville Library
In 1961, a new building, the Centerville Library, was constructed at 105 Virginia Avenue on land provided by the Board of Education for $1.00. The new facility was named for Centerville, Ohio, an early settlement on the trail between Dayton and Cincinnati. This settlement, situated on the divide between the Little Miami and Great Miami Rivers, was so named because it flourished as a hub of activity, equidistant from several early towns. Centerville's first residents replaced early crude log houses with limestone homes, built for permanence and still remaining today. The Centerville Library opened to the public in 1962, with additions opening in 1964 and 1972 to accommodate the increasing number of users.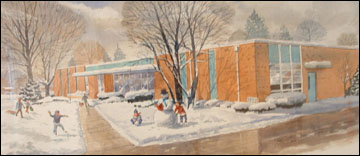 A Second Library
In the early 1970s, the Library Board began planning an additional library to serve the northern part of the community. A storefront North Branch was opened in the Washington Square Shopping Center in January of 1974. The popularity of that "Little Library" prompted the trustees to arrange for yet a larger library facility. Also, at this time, the first professional Library Director was hired to direct the library. Among her first duties were the planning of the new facility and the development of a collection for that library. The larger facility opened in a converted bank building at 6060 Far Hills Avenue in 1980, replacing the popular North Branch. The new building was named Woodbourne Library, after another early settlement no longer in existence.

With the new Woodbourne Library came several internal changes. The early 1980s saw an increase in departmentalization within the library and the hiring of the first specialists in Reference and Adult Services/Audio-Visual. Heavy demand for Library service in the growing community soon necessitated construction of a 7,700 square foot addition to the Woodbourne Library, opening in 1986. In the late 1980s and early 1990s, the positions of Personnel Specialist and Automation Specialist were added, forming the Centerville Library Operations Team to direct daily operations, under the guidance of the Library Director.
Growth and Change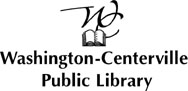 Between 1980 and 1990, Library usage grew by more than 235%. Over 9,000 people visited the two Libraries each week. The Library Board of Trustees purchased property at the corner of Spring Valley Road and Virginia Avenue as a site for a larger facility to take the place of the overcrowded Centerville Library.
The next century of Library service began to take shape with a series of changes in the 1990s. In 1991, the Library system changed its name from Washington Township Public Library to Washington-Centerville Public Library. Programs and discussions on employee empowerment provided the inception of a forward-thinking business approach. A bond issue was placed on the ballot in 1993 to complete the capital fund for construction of the new Centerville Library, and was passed with the assistance of over 650 volunteers informing voters. In 1994, Washington-Centerville Public Library became fully-automated, as the new Dynix system was installed. All circulation activity was now on-line, allowing patron records and catalog information to be transferred between, and instantly updated at each Library building.
A New, "Million-Story" Building
On February 20, 1995, the new Centerville Library opened at 111 West Spring Valley Road, replacing the old Virginia Avenue branch. This newest and largest of the Washington-Centerville Public Library facilities includes 31,600 total square feet plus a mechanical mezzanine, with 1,100 square feet of program space, a board room, and a maximum capacity of 200,000 volumes. As the headquarters location, Centerville Library also houses the technical processing center and administrative offices for Washington-Centerville Public Library. It was designed to be "user-friendly", spacious, accessible to the physically impaired, and wired for current and future technology needs.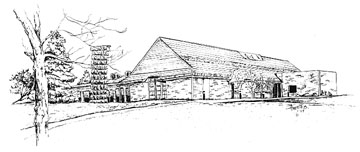 Skyrocketing Usage
The addition of the new Centerville Library increased Library usage even further, elevating Washington-Centerville Public Library from 26th in circulation among Ohio's 250 public libraries to 20th in a single year. In 1995, annual circulation surpassed the mark of one million items. Technological advances remained a focal point as Dial-In Access to Library catalogs was made available to patrons through their home computers. A CD-ROM software collection was also debuted for circulation to the public.
These stations provided access to full text magazine databases, as well as CD-ROM databases selected by the Library. Some stations provided full access to the Internet. Two beautiful
sculptures
were dedicated in 1996 and 1997 - Gary Price's "Storytime" at Woodbourne Library, and Michael Frasca's "The Record" at Centerville Library.
In 1996, more infrastructure was required by the growing organization, so the first Public Relations/Programming Specialist position was created, as well as the first Facilities Maintenance Coordinator position. Washington-Centerville Public Library has maintained its commitment to technological modernization through continued progress in the information age. The first Library website debuted in 1996, and
Internet programs
for the public began that same year. In 1997, the Library created
Information Stations
for public use.
National Recognition, Funding Changes, New Services
In 1998,
Hennen's American Public Rating Index
(HAPLR) ranked Washington-Centerville Public Library 2nd in the nation among libraries with a population 10,000-99,999. This reflected the hard work of the 113 employees that staffed the Library during this year. In 1998, the state and local funding formula changed. The funding formula recognized the new, larger facility and increased size and cost of operations. Prior to this change, the local operating levy accounted for 50% of the Library's income. The new formula shifted this percentage resulting in 50% from state and 41% from the local levy. The
Teen Advisory Board
debuted in August of 1998, giving teens the opportunity to work on programs,
contests
, material suggestions, and the website.
In August of 1999, Washington-Centerville Public Library was ranked 1st in the nation among libraries of similar size and larger. HAPLR ranked the Library 3rd in the nation among all 9,000 libraries. Also in 1999, the Woodbourne Library Refurbishment project was completed, giving the Library a fresh, new look.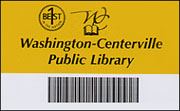 The Library also added two new services in 1999. First, DVDs were made available for loan as more patrons began to purchase DVD players. New Library multipurpose cards were also introduced. With the new card patrons could checkout as well as pay for copies and Internet printing using the debit capabilities of the card.
A Busy Y2K
The year 2000 was a big year for Washington-Centerville Public Library. The Library ranked #1 again in the population category while climbing to #2 among all libraries. The Library was the only Ohio library to place first this time and one of only three libraries to place first in 2000 and 1999. In 2000, the Library was ranked the 16th busiest library among Ohio's 250 libraries. This is a jump of ten positions in the past ten years.
Former
Board
President and long time Library trustee, Mrs. Yeck, established the
Dorothy R. Yeck Endowment for the Arts at Woodbourne Library
in 2000. The
endowment
is intended to further the arts at Woodbourne Library. Also, Winifred Dewey, a 16 year member of the Library Board, established the
John P. Dewey Business Endowment
in the name of her late husband, John P. Dewey, who served ten years on the Washington-Centerville Public Library Board of Trustees. The gift endows purchase of business and travel materials and business services enhancement.
A new website was designed in 2000 to offer more service to the patrons. The website became an interactive gateway to Library and information services and provided a more unified Library image. New services included
online program registration
and catalog access.

A partnership with the University of Dayton on the
Erma Bombeck Writing Competition
proved to be very successful. The contest merged with a UD event including a writers' workshop and celebrity events. These events received region-wide print and television coverage for Washington-Centerville Public Library.
Continued Success
In 2001, Washington-Centerville Public Library ranked 1st again in the population category. A ten-year report to the community showed efficiency and growth. The report showed that over the ten year time period Library usage quadrupled, reference questions jumped 263%, and over a quarter million new items were added, increasing circulation 83%. 2002 proved to be yet another successful year for Washington-Centerville Public Library. Again, the Library was ranked 1st among libraries of similar size and 2nd among the nation's 7,000 libraries. Also in 2002, a new ten-year operating levy passed by an outstanding 66% margin.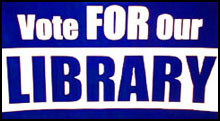 Demand for materials in 2002 was at an all time high due largely to availability of outstanding materials and programming, increased
hours
, and the promotion of the Library during the levy campaign. The result was an outstanding circulation increase of 12.9% for the year, reaching almost two million items.
Levy Passage Results in New Services

A variety of new and expanded collections and services were implemented in 2002. Sunday hours were added at Centerville Library, increasing Sunday circulation by 200% from September through December. This new service was well received by the patrons and the community. Another new service,
Express Collection
, debuted, offering quantities of popular reading titles for instant checkout for 7-day loan with no holds. Technology upgrades for the year included
eCatalog
, an updated Web-based system. This new system replaced the text-based Web CAT. eCatalog added interactivity that boosted website traffic 85%.
Express Notice
also debuted in 2002, providing email notices for holds and overdues, and continuing to expand the new line of popular
Express Services
.
Number of Items Checked Out Tops 2 Million
Annual circulation of materials surpassed the 2 million items mark in 2003, and the HAPLR index once again ranked the Library #1 for the fourth consecutive year. Library traffic of all kinds grew by leaps and bounds, with over 670,000 visitors through the doors, and more than 300,000 visitors to the Library's website (over 1.8 million hits). Records were shattered for number of
reference questions
asked, information station usage, audio-visual circulation, and more, yet the Library was more efficient than ever, reducing its expenditures in response to shortfalls in funding.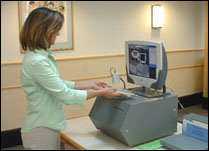 More Express Services were added as well to make using the Library even easier for patrons.
Express Info
, a 24/7 Web-based reference service, made it possible for patrons to get their research questions answered even when the Library is not open. Also, the addition of several
Express Checkout
machines allowed patrons to check out their own materials and circumvent long lines that sometimes occur at the circulation desk.
Library Ranks 10th Busiest in the State Among Public Libraries
Citizens checked out more than 2.2 million items in 2004 bringing the per capita circulation to 42 items - 3 times that of the national average! It also marked the first year that audiovisual materials such as
movies
,
music
and
audiobooks
surpassed
print materials
in circulation. Visits to the Library were up by 9% in 2004, resulting in over 700,000 visits to the physical Libraries and more than 350,000 visits to the website.

Patrons Can Check Out Library Materials Without Ever Leaving Home
A new Digital Collection debuted in 2005 that made it possible for patrons to check out and download eBooks and eAudiobooks right from home or work. This marked the continuation of the Library's commitment to offering more Web-based and technological services that make the Library even more convenient.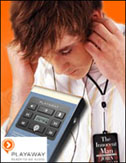 New Formats, Convenient Services Delight Patrons
2006 marked the debut of new formats like Playaway - portable book/media player all in one - and
Express Collection Movies
- new release DVDs for quick loan. In addition, more books in Spanish, Hindi, Chinese and Korean were added for adults and children. New services like Express Select - prepackaged bundles of books, movies and music on a specific topic - and
WiFi
made using the Library even more convenient.To further support early literacy, the Library added several programs including
Baby Summer Reading Club
for newborns thru age 3, and Prime Time Family Reading Time - a program designed specifically for 'at-risk' families.
Celebrating the Good Life

Created in 2006, the
Dottie Yeck Good Life Award Endowment
is a writing contest for teens in grades 7-9 to share ideas about how to live a life that is fun, purposeful and happy. Centerville native and National Football League New York Jets player Nick Mangold served as spokesman for this popular contest which encouraged teens to write about Dottie's formula for a good life:
Being Good + Doing Good = Having Fun + Being Happy
.
"Most Beautiful Book Ever Written" now at Centerville Library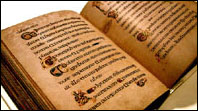 Thanks to the generosity of the Fallang family, a rare fascimile copy of
The Book of Kells
was donated to the Library in early 2007. This replica of the 1200 year-old illuminated manuscript spurred a two-year long series of events to educate patrons about the early middle ages, the time period in which the Book was written.
The Book of Kells series delivered the most successful programs in Library history, setting new community and organizational standards for quality. Programs were diverse and interactive featuring the history of the period in year one and Illuminating the Times and the arts in year two. The Amazing Art of Kells and Scholar Series presentations by local and nationally renowned experts in the field of medieval history were a part of both years.
More than 18,000 people attended the programs and more than 12,000 visited the exhibits which counted 32 organizations as collaborators, including universities, associations, the Centerville Arts Commission, Centerville City Schools, Society for Creative Anachronism, Washington-Centerville Library Foundation, and Washington Township's Town Hall Theatre.
New Library Catalog Offers Patrons More Features and Functionality
In October 2007, the Library replaced a 14-year-old catalog system with a new system called Millennium. The system offers patrons some of the most up-to-date technology available including new features like courtesy email reminder notices of upcoming due dates, an optional reading history to track previously checked out materials, and more user-friendly and robust searching features for
eCatalog
.
A Pattern of Innovation and Excellence
In 2008, Washington-Centerville Public Library ranked #1 for the sixth time in its population category, making it the longest continuous #1 ranking of any library in the country – while still ranking above the state's average in efficiency. Of Ohio's 251 libraries, Washington-Centerville Public Library ranks as the 12th busiest. The total cardholder base grows to more than 70,000 as new patron card registrations increase by 15 percent.
Kids Get Their Own Website

In 2008, a new
website designed for children and featuring Bobo
, the storytime monkey, made its debut. This interactive website, accessible from the main website, encourages kids to Read! (get suggestions, write a review, or listen to a story), Learn! (ask a question, learn cool stuff, or get homework help), and Do! (play games, color or create their own stories, jokes and poems). The site also features fun kid-centered polls, trivia questions, and offers homework help. To celebrate the new site, a new signature library card, featuring Bobo, was developed just for kids.
Library at the Forefront with Video Games
Washington-Centerville Public Library continued its innovative approach to service and materials with the introduction of
video games
for Nintendo's Wii, PlayStation 2, 3, and Xbox 360. One of only a handful of libraries in the state to offer video games, the collection set records from the start. On the very first day, patrons checked out 64% of the video games available. The success of the collection sparked the Library to order an additional 500 new games, with an eye toward expanding to other gaming platforms in the future.
Market Driven Collections
Thanks to a market-driven selection philosophy, checkout of materials remained an impressive 2.2 million. Despite the introduction of new audiovisual collections, check out of books grew almost 7% over the previous year. Teen books in particular showed strong gains with an 18% increase - proving that teenagers value reading as much as technology.
Convenient and Civic-Minded Services

With new international travel guidelines in place, staff at the Centerville Library became certified U.S. Passport Processing Agents as the library processed
passports
for more than 800 new or returning travelers throughout the area in its first year. Convenient evening and Saturday hours by appointment only added to the other civic services offered by the library including
voter registration
, which saw an astronomical near 400% increase in registrations in 2008.
'Brary Blogs
Reference and Technology services continued to gain new cyber ground with the addition of text messaging reference services, the expansion of home-accessible
research databases
, as well as a growing lineup of
Library Blogs
. Library blogs offer patrons a convenient way to get new book suggestions, business information, and provides a forum for teens to share views on books and music.
Library Collections and Services Assist During Recession

In 2009, the Library experienced double digit increases in both visits and circulation, bringing total checkouts to more than 2.5 million annually. A growing demand for free entertainment options, including the newly added
Blu-Ray movie collection
, was the direct result of the ongoing recession. Demands for
Internet access
and
computer training
grew as more citizens found themselves looking for new jobs as a result of lay-offs. Library funding from the state also fell victim to decreased tax revenue and as a result the Library's focus shifted to streamlining operations and increasing efficiency. To absorb the increased level of business without adding more staff, the Library invested in new
Express Checkout
stations. Despite the shortfall in state funding, the library ranked #1 for the 7th time in the HAPLR Index.
200 Years of Great Books, Great Libraries

In 2010, the Library celebrated 200 years of service to the communities of Centerville and Washington Township. The year was dedicated to celebrating Great Books and Great Libraries and included more than 80 events and activities that drew more than 8,100 participants. The celebration was even more special due to the year-long support of more than thirty businesses and organizations. The year culminated with Dinner at the Trace, the Library's first ever fundraising event. Keynote speaker for the evening was Bob Danzig, former 20-year CEO of Hearst Newspaper Group. Mr. Danzig summed it up best when he dubbed libraries as beacons of hope and sources of inspiration. We agree and believe it is for those reasons, that Washington-Centerville Public Library has stood the test of time.
Communicating the Need for Local Support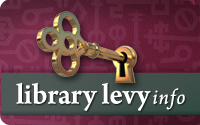 Years of dwindling state financial support and the expiration of the current 10-year levy prompted Washington-Centerville Public Library's decision to place a 3.0 mill operating levy on the November 2011 ballot.
A comprehensive campaign was designed to further inform and persuade citizens to Support Our Library, Our Future. Despite citizen concerns about high taxes, the Library's 3.0 mill operating levy passed by 61%. More impressively, the levy passed in 100% of the voting precincts, proving support for the Library exists throughout our community. The approved levy will supply the Library with operating revenue from 2013-2023.
eCollections & Library Hours Expand
As the 14th busiest public library in Ohio, checking out more than 2.2 million items annually, Washington-Centerville Public Library prides itself in providing access to popular materials and offering services to help connect patrons with what to read.
The easiest way to increase access to library materials is for the facility to be open. The Library responded to community survey input by implementing Sunday hours during the summer at Centerville Library beginning July 8, 2012.
While print and Audio/Visual circulation return to pre-recession levels, the Digital Collection circulation skyrockets – up nearly 110% for 2012 and is renamed the "eCollection" to encompass new digital items like eMusic and eZines. As a complement to the digital content available, the Library began circulating 10 Kobo eReaders in November 2012.
Supporting Early Literacy

In 2013, the Library made gains in coordinating early literacy efforts more closely with those of the Centerville City Schools. State mandates like the Common Core and 3rd grade reading guarantee provided an opportunity for the Library to make a bigger impact. As a result of collaborative efforts with school administrators, library staff fine-tuned the children's summer reading club, supported the Weller Elementary School Read-A-Thon and launched a
Kindergarten Storytime
, which helped push annual storytime attendance towards the 11,000 mark. In addition, new programs were created to emphasize science and math; two content areas found on state-mandated tests. All these efforts help support young readers, and their educators, in meeting state standards. These efforts join existing literacy programs like Tail Waggin Tutors and
Sensory Storytime
.
Continuing Education and Enlightenment at the Library

Also in 2013, the Library expanded its lineup of
Tech Classes
to include more software and social network offerings. Free courses like Linked In, Microsoft Publisher and Advanced Excel build skills to make citizens more employable. This growth in offerings would not have been possible without newly purchased laptops and devices which offer the flexibility for hands on classes to be offered at additional times throughout the day (versus only before the Library opens).
In tandem with the 150th anniversary of the Civil War, the Library also hosted a national travelling exhibit, funded by an American Library Association Grant, called
Lincoln: The Constitution and the Civil War
. The exhibit drew more than 35,000 visitors over its six-week stay at the Centerville Library and almost 1,8000 attended the scholar series and programs for children and teens that complemented the exhibit. The exhibit was a first of its kind for the Library.
Checkouts Continue to Grow

In 2013, patrons checked out nearly 2.4 million items for an increase of 3% over 2012. Even more notable, this was the first increase in total circulation since 2009. Several factors may have contributed to this increase including the growing popularity of eCollection items, the addition of
SearchOhio
, policy changes that made it easier to access materials, and an increase in materials expenditures. More than $1 million was invested in adding new items to the collection, a 7.4% increase over 2012.
Improving the Patron Experience

Many facilities improvements were made in 2013 to make the library more inviting, easier and safer to use.
New tables, chairs and alphabet tables
can now be found in the children's room thanks to the help of a private donation from the Yeck Family and support from the
Friends of WCPL
. Colorful
banners
adorn the Centerville Library and help patrons find key services, and a new seating area with a power cube makes it possible for more patrons to use the library as a mobile office.
In addition, the Library purchased the McDonalds property adjacent to the Cataloging Center. This property, which will be used initially as a staging site for the rear egress project, will open many new opportunities for the Woodbourne Library property. Progress was also made to develop a rear egress driveway at Woodbourne Library thanks to the Library Board of Trustees, the City of Centerville, Washington Township, the Conner Group and Mr. Wang, owner of North China restaurant.
To learn about the Library's most recent history, please visit our
Annual Report
page.