Storytimes & Early Literacy Tools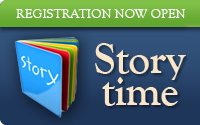 Encourage language and literacy skills at storytime. Stories, songs, and finger plays make storytime fun and interactive.
Follow the links below for schedules and more information on each of our storytime sessions.
Baby Storytime
Ages Newborn - 18 months
Toddler Storytime
Ages 18 - 36 months
Preschool Storytime
Ages 3 - 5 years
Kindergarten Storytime
Kindergarten students
Family Storytime
All ages
Sensory Storytime
Kids with autism, language delay, sensory processing disorder and disabilities.
'Brary Bags
We have special learning kits for use with babies, toddlers and preschoolers that will help you work on developing early literacy skills at home.
Every Child Ready To Read
Early literacy workshops for parents, grandparents, homeschool teachers, preschool teachers, childcare providers, and professionals.
Early Literacy Blog - Open Shut Them
Receive suggestions for read-aloud books, developmental tips, updates about Library storytimes, and suggestions to help you as parents and caregivers be your child's first and best teacher.
Play & Learn Stations
Kids in preschool through 8th grade can play games on computers loaded with interactive and educational software! Educational games can help build your child's early literacy skills.
TumbleBook Library
Free access to the Library's online collection of animated storybooks! Features games, videos, stories in other languages and much more!
Programs for Kids & Families
Enjoy food, fun, stories, and crafts at a variety of other
programs for children and families
.