Good Life Award Writing Contest
Attention Good Life Award Writers!
The dates of this contest have been changed. Contest will open for online entries on Monday, September 15, and close on Monday, October 13, 2014. The GLA Celebration and Awards Recognition will occur on Thursday, November 13, 2014, at Centerville Library.

Being Good
+
Doing Good
=
Having Fun
+
Being Happy
˜ Dottie Yeck's Life Philosophy
Contest Dates: March 1, 2013 - April 1, 2013
A contest for teens who live or attend school in Montgomery County, Ohio
to share ideas about living a life that is fun, purposeful, and happy.
Honoring the life of
Dottie Yeck
, a champion of children,
who believed that one is never too young to have an impact on the world.
Winner will be awarded a certificate and a $3,000 prize.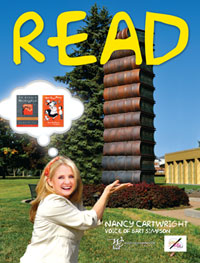 Get Inspired!
Return to Top
Eligibility
Entrants must be enrolled in a curriculum for grades 7 - 9 at the time the application is submitted.
Entrants must live or attend school in Montgomery County, Ohio.
Prior Good Life Award $3000 prize winners are not eligible for this contest.
Family members of Washington-Centerville Public Library staff and contest judges are not eligible for this contest.
Return to Top
Rules (as an entrant you must...)
Complete the writing challenge in 300-500 words (entries of more than 500 words will be disqualified).
Complete the online entry form by April 1.
Submit only one entry per person.
Certify the work was written by you and expresses your original ideas which you have developed. By submitting your entry to the Good Life Award, you guarantee the work as your own.
Agree to allow your name, personal photo, and entry excerpts to be published in the Dayton Daily News if you win.
Agree to attend the Good Life Celebration award ceremony at Washington-Centerville Public Library on May 16, 2013 if you win.
Return to Top
How to Enter
Submit entry online using the official online entry form (link visible when contest opens) between March 1 and April 1.
Copy and paste your final entry into the textbox. (Please be sure that your name and school are NOT included in the main body of your entry.)
Return to Top
2013 Writing Challenge
"Believe you can, and you're halfway there."
--Theodore Roosevelt (1858-1919)
"Never bend your head. Always hold it high. Look the world right in the eye."
--Lucille Ball (1911-1989)
"You have brains in your head. You have feet in your shoes. You can steer yourself in any direction you choose. You're on your own. And you know what you know. You are the guy who'll decide where to go."
--Dr. Seuss (Theodore Seuss Geisel)(1904-1991)
Step 1: Develop a Plan
Review the
criteria
by which you will be judged.
Step 2: Write to the Prompt
Invitation:
As you navigate through your teen years, every day is a fresh opportunity to re-think, re-act, re-do, and re-create yourself, your attitude, and your impact on the world. But there are many ups and downs on this journey to self-awareness, and becoming the person you want to be isn't always easy. Many external influences, such as school and the opinion of others, can impact your self-confidence and sometimes your choices.
Prompt:
Develop a plan for living a good life. Using personal experiences as examples, give the reader advice on how to build self-confidence while exploring how school and others can affect that self-confidence. How do you block negative impacts while building up the positive? Be sure your plan reflects Dottie Yeck's belief that being good and doing good will result in having fun and being happy.
Return to Top
Judging
Decisions of the judges are final.
Adherence to all rules and challenge guidelines are basic requirements of this contest.
The following criteria will be used to determine the winning essay:



| | | |
| --- | --- | --- |
| Criteria | Description | Points |
| Clearly Addresses Prompt | Includes a description of a situation and/or time when the writer was able to demonstrate self-confidence in a situation even when it may be been difficult to do so. Writer fully illustrates how they were able show strength of character, what they learned, and how Mrs. Yeck's philosophy of Being Good + Doing Good = Having Fun + Being Happy leads to having a good life. | 30 |
| Creativity & Style | Rich details and examples that reveal personality and a strong writer's voice. Consider citing personal emotions, values, and beliefs. Consider the use of inspirational quotes, poems, songs, or passages, etc., to reflect beliefs. | 30 |
| Clarity of Content | Organized and easy to understand with good ideas for others to consider. Uses all elements of Who, What, When, Where, Why and How. | 30 |
| Accuracy | Writing mechanics and format do not detract from meaning. Content is correct in punctuation and spelling. | 10 |
Return to Top
Awards
The GLA winner will be awarded a Good Life Award Certificate and $3,000.
Two Award of Distinction Winners will receive $100.
Winning essays will be published in the Dayton Daily News.
Winner agrees to attend the Good Life Celebration at the Washington-Centerville Public Library on Thursday, May 16, 2013.
Return to Top
Good Life Celebration

The 2013 Dottie Yeck Good Life Celebration will be held in the Community Room at Centerville Library, Thursday, May 16, 7:00 - 8:30 PM
Winners will be recognized and author Fran Kick will help us KICK IT IN with an exciting and dynamic teen leadership presentation!
Join family, friends, and teachers in celebrating, encouraging, and helping students who are working hard, getting better at what they do, and having fun in the process.
Everyone is welcome! Registration is NOT required to attend.
Return to Top
Sponsors
Dottie Yeck Good Life Award Endowment
If you have a question, please feel free to
contact us via email
about the Good Life Award Writing Contest.