eNewsletters - Signup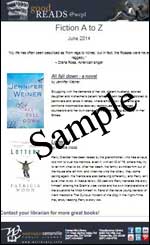 Sign up to receive reading suggestions via email for new release books for the genres and topics you love!
How To Subscribe:
Click the links below to preview the reading list.
Click the checkbox next to the newsletter(s) below you wish to receive.
Enter your Name and Email address in the box provided.
Click the Subscribe button.
If you are under the age of 13, a parent or guardian must complete this form.
Add readersadv@wcpl.lib.oh.us to your email safe senders list.
How To Unsubscribe:
Click Manage Subscriptions or Unsubscribe link at the bottom of the eNewsletter.
Click the checkbox that says, Please do not send me any newsletters or promotional emails.
Click the Save My Email Preferences button.
How To Change Email Address
First, follow the directions above to Unsubscribe from all newsletter lists.
Next, follow the directions above to Subscribe to the eNewsletter lists.